The lights shone more brightly than anything I'd ever seen. One million blinding watts strafed across the leaves of countless cannabis plants that peeled off in neat rows in every direction. The warehouse was as pristine as a pharmaceutical facility, and as we strode around in crisp white nylon overalls and box-fresh wellies, the atmosphere was surreal – interstellar, almost: – it felt as if we were on a mission to Mars. It was definitely a glimpse of the future.
It was 2017 and I had been invited to visit this legal medical cannabis "grow" in the town of Gatineau, near Ottawa. I was in Canada after writing a paper for the drug-law reform thinktank Volteface, proposing an online-only, legal cannabis market in the UK as a way to break the logjam between the UK's two million cannabis smokers and those who fear legalisation. I was meeting with Canadian police and politicians to hear more about that country's plans to completely legalise cannabis the following year.
Back in the UK, a million-watt grow like Gatineau's would put you in jail for a decade. Here, it was likely to make its owners a very cool, very legal few million in mere months. Added to that, the state would benefit, too, as taxes from sales of the crop would be collected for the common good rather than enriching criminals. It felt utopian.
Were cannabis activists' hopes of a regulated cannabis market just a pipe dream?
For the three decades I have campaigned to reform drug laws, I never expected to see change happen so quickly, or at such scale, as it did in Canada. But, two years on, the Canadian experiment hasn't quite turned out as we reformers had hoped.
The Gatineau greenhouse through which I strode on that day in 2017 was owned by a firm called the Hydropothecary. Now named Hexo, in October 2019 it shed 200 of its 800 staff. On 4 March one of Canada's biggest growers, Canopy Growth, announced the closure of two mega-greenhouses in the towns of Delta and Aldegrove – with 500 job losses. The firm also cancelled the opening of a new site in Niagara-on-the-Lake, Ontario.
Meanwhile, the black market is still vibrant while cannabis stocks have crashed, medical patients say they can't get hold of essential medicines, and thousands of jobs have been lost. So what went wrong – and what went right? Were cannabis activists' hopes of a regulated cannabis market just a pipe dream?
Canada had permitted cannabis for medical use since 2001. Medical patients were allowed to grow four plants, and licensed producers cultivated larger crops for sale online to those with valid prescriptions. But most Canadian cities had illegal – but tolerated – dispensaries where the drug was sold completely indiscriminately. These stores made Amsterdam's coffee shops look as prim as a WI cake stand. The quality and variety of cannabis on sale at these illegal outlets was outstanding, bewildering. Business was not just booming, but blazing.And it was all completely illegal.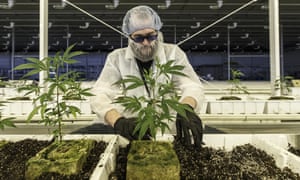 Canada's Cannabis Act of 2018 was a bold attempt to impose some order on this anarchic retail scene. It legalised the sale to adults of 30g of cannabis in austere packaging from government-licensed shops. Canadian prime minister Justin Trudeau said: "The old approach to cannabis didn't work. It was too easy for our kids to get it and gangs and drug dealers were reaping the profits. That changes from now on."